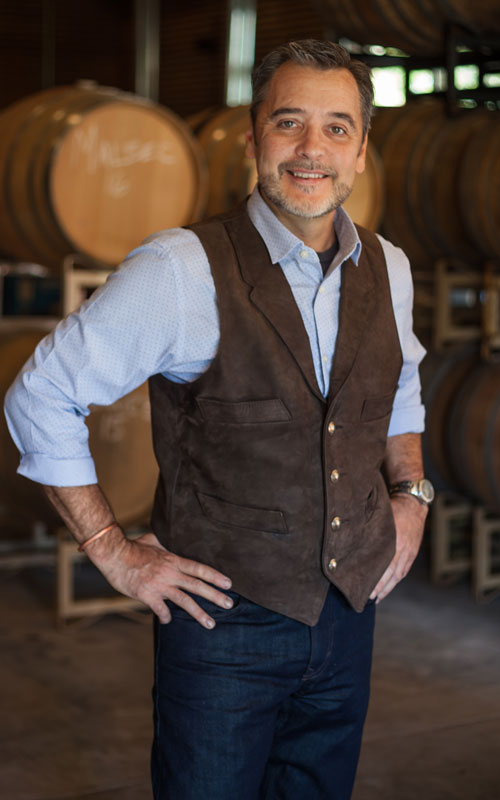 I can't even count the number of times that I've been asked over the years, "When are you going to get a 'real' job?" I have a "real" job, and it's a pretty kickass job…I drink for a living.
I didn't seek out this career; it found me. What started out as a bartending job to pay my college tuition led to a passion for creating balanced flavors…first in cocktail creation, then food and wine pairing and finally, winemaking. Everybody has a calling…mine is wine, everything from vine to venue.
As a fledgling wine geek, I traveled to France several times as a seasonal cellar worker (read as "cellar rat"). I had the privilege of cutting my winemaking teeth by learning from some of the greats in Burgundy and Alsace and to follow those friendships into studying under and becoming a young member of La Confrérie des Chevaliers du Tastevin, one of the oldest sommelier societies around. Born and raised in Cape Cod, I lived as a modern-day nomad splitting time as a sommelier and buyer between the Nantucket, Boston and Colorado markets. Spending summer seasons as sommelier for Toppers at the Wauwinet on Nantucket Island, I eventually landed in Colorado where I served as sommelier for Vail Resorts for 23 years and also began making wine for a private club winery. The consistent excellence of my award-winning wines gained a healthy following that allowed me to hone my winemaking skills for over 16 years. The recognition of my time in Colorado earned me the position of Regional Sales Manager for Empson USA, a venerable Italian fine wine import company, and my traveling the world of wine continued for the next several years, cementing my passion for old world wines.
My personal life brought an end to my time in Colorado. I started a new journey in Texas, but I was a winemaker with no winery. As luck would have it, I was introduced to a brand new winery that had no winemaker located about 90 miles Northwest of DFW in a quaint little German town named Muenster, TX.  I became the founding winemaker at this winery, 4R Ranch Vineyards & Winery in the North Texas Hill Country.  Now, after four years of building the wine program and elevating 4R to the award-winning winery they are, it is time to launch my own winery!  Deschain Cellars will be opening soon in Gainesville, Texas.  We will feature Old World hospitality and service and the best wines I can make, along side of curated favourites of mine from my somm days in a hip, funky atmosphere in our winery built out of shipping containers.  My favorite part of the job is helping individuals discover the perfect wines to satisfy their palates. I love to see the expression on someone's face when the lightbulb turns on and they "get it"!  Welcome to Deschain Cellars!  Prepare to have your lights turned on…
Having had the opportunity to travel around the world tasting wine, I am a huge fan of Mediterranean varietals and Old World winemaking styles. In my own winemaking, I strive to produce handcrafted wines that balance Old World elegance with New World vibrancy, wines that play well with food and that are equally suited to just sit and sip.
After all, wine is just grape juice that knows somebody.  If you like what's in your glass, that makes it good wine.